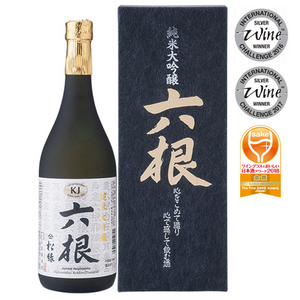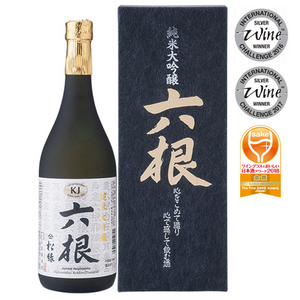 On Sale
Rokkon Diamond Junmai Daiginjo - Limited Edition
An extremely rare Sake at the highest peak of the Rokkon series - only 900 bottles are produced annually as it is only released upon perfection. This is a valuable, limited edition, award winning gold medalist sake at the Fine Sake competition. Produced using a traditional, time-consuming drip method, this drip filtered sake showcases the pinnacle of Rokkon brewing to bring out the full potential of Yamada Nishiki rice.

With an elegant, delicate, fruity, colourful Ginjo scent and a distinctive, deep juicy taste. The flavour of the rice combined with the elegant fragrance produces a voluminous mouthfeel and the warmth of the mouth highlights the umami flavour. The bold and full bodied taste is a trademark of Rokkon's bold and distinct style. Best enjoyed chilled.

Pairs well with dishes such as steamed in a clay bottle, grilled sea urchin, grilled sillaginidae pickled in miso-zuke, and grilled chicken with salt.

Serving temperature: 5 ℃ to room temperature.
Additional Information:
S

ake Grade: Junmai Daiginjo 

Rice: 100% Yamadanishiki rice
Polish rate: 40%

SMV: -1.0 (Sweet)

Acidity: 1.5
ABV: 17%
**Available as 720ml with Gift Box.
Awards :
About Rokkon: 
Rokkon refers to the six senses of vision, hearing, smell, taste, touch and consciousness. The sakes that fall under the Rokkon brand can be enjoyed with the five senses and the heart. This unique brand of sake is made from high-quality mother liquor produced at Matsumidori sake brewery which specialises in mother liquors, combined with the soft underflowing water of Shirakami Suikei Iwakisan.