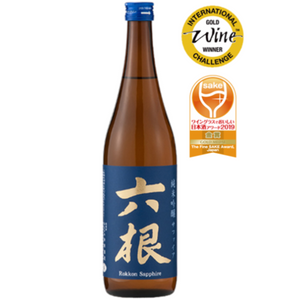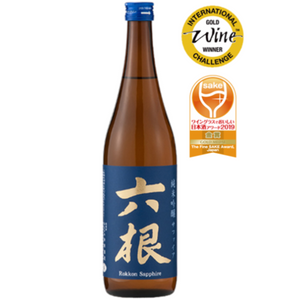 On Sale
Rokkon Sapphire Junmai Ginjo
Focused on the acidity of Hanaomoi Rice, the finest rice in all of Aomori Prefecture, to extract a robust taste with lingering crisp. The characteristic delicious umami flavour of the Hanaomoi rice is balanced with a pleasant tartness.
The full flavour and persistent tail are particularly well suited for enjoying with western cuisines. Top rated Sake!
Additional Information:
Rice: 100% Hanaomoi 
Polish rate: 55%
ABV: 16% 
SMV: +3.0 (Dry)
Acidity: 1.9
Volume: 720ml
Awards :
What is the KJ mark?
Abbreviation for Kosher Japan. Kosher was originally a food regulation that was considered "clean" for Jews, but due to heightened awareness of food safety and a naturalist orientation, non-Jewish general consumers also chose Kosher. increasing. The Kosher mark has become a safe food endorsement and is becoming common sense among leading overseas consumers. Our products guarantee a high level of safety with this strict Kosher certification.