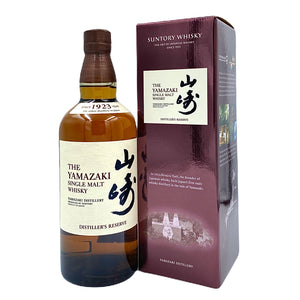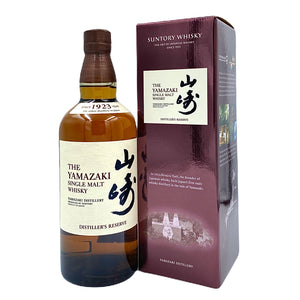 On Sale
The Yamazaki Single Malt Whisky - Distiller's Reserve
The Yamazaki distillery creates some of the world's most celebrated single malts, with the 18 Year Old having won more international awards in the past decade than any other whisky in the world. All vintages are world class, and this one celebrates the founding of the distillery in 1923. Perfect for any lover of Japanese whisky, Suntory, and the globally renowned Yamazaki character.
This is one of two Distiller's Reserve single malt whiskies from Suntory in Japan. This single malt from the Yamazaki distillery is jam-packed with superb red berry notes, gained from the whisky being matured in Bordeaux wine casks and Sherry casks. It also features malt matured in Mizunara casks, adding subtle fragrant oak notes.
Tasting Note :
Nose:

 

Classic Yamazaki strawberries and dried fruits with floral notes coming from the Mizunara cask whisky. Fragrant sandalwood and maybe coconut. Certainly a whisky where you could get lost in its nose!
Palate:

 

The dried berries remain lively on the palate (it even develops some raspberry notes along the way), but they're dialled back a bit to make room for light oak, white peach and a small amount of spice.
Finish:

 

Vanilla lasts and lasts, with spicy but sweet cinnamon acting as a final flourish.
Overall:

 

Top quality Japanese whisky, and excellent value too. Can't go wrong with this, really.
Additional Information :

Style : Single Malt Whisky
ABV : 43 %
Volume : 700ml
Distillery : Yamazaki and Suntory 
Origin : Japan