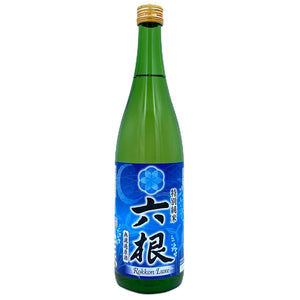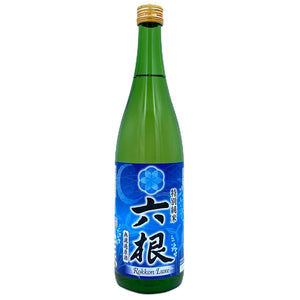 On Sale
Rokkon Murokagenshu Luxe Tokubetsu Junmai
This is a special pure rice Rokune unfiltered raw sake using Gohyakumangoku with a rice polishing ratio of 60%. An unfiltered raw liquor with a mellow taste, gentle sweetness, and moderate acidity. This will deliver the deliciousness of the original sake as it is.
New approach to Gohyakumagoku rice, this sake is enjoyed by both connoisseurs and beginners. Mild fruity taste with gentle sweetness and acidity harmonizes perfectly for a refreshing experience.
Additional Information:
Rice: 

Gohyakumangoku

Polish rate: 60%
ABV: 16% 
SMV: -0.6 (Sweet)
Acidity: 1.8
Volume: 720ml 
[About "The Rokkon"]
Rokkon refers to the six senses of vision, hearing, smell, taste, touch and consciousness. Apropos the name, the sakes the fall under the Rokkon brand can be enjoyed with the five senses and the heart. This unique brand of sake is made from using high-quality mother liquor produced at Matsumidori sake brewery - a brewery that has been specializing in making mother liquors since its establishment - and the soft underflowing water of Shirakami Suikei Iwakisan.